Bun Cha
Like many Vietnamese dishes, this is a build-your-own-flavors deconstructed noodle dish. Savory grilled pork, tart pickled veggies, and fresh herbs are set next to a pile of rice vermicelli noodles. Pour on a little
fish
sauce, mix together, and you have a dish that kicks flavor around every corner of your mouth.
Pho Bo or Pho ga (Beef or chicken noddle)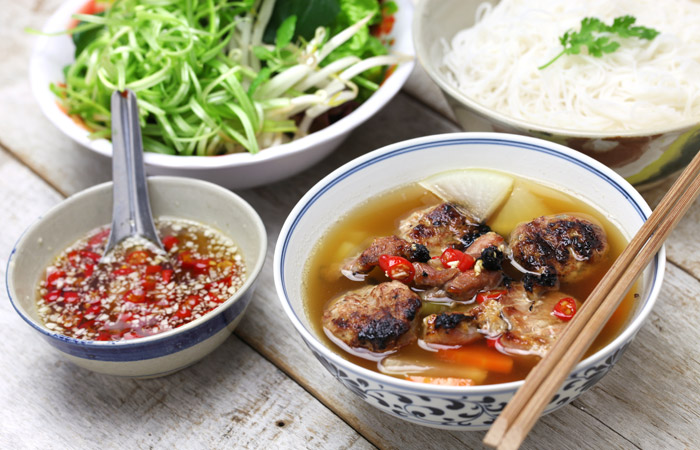 If you haven't heard of this hearty and delicious noodle soup, you must be living under a rock. Thin strips of beef or chicken cook in a boiling hot broth laden with wide rice noodles. Fresh bean sprouts, chilies, and a whole mess of fresh herbs accompany the broth, so you can load the bowl to your taste preferences. The servings are huge, and I can attest to their ability to cure a hangover.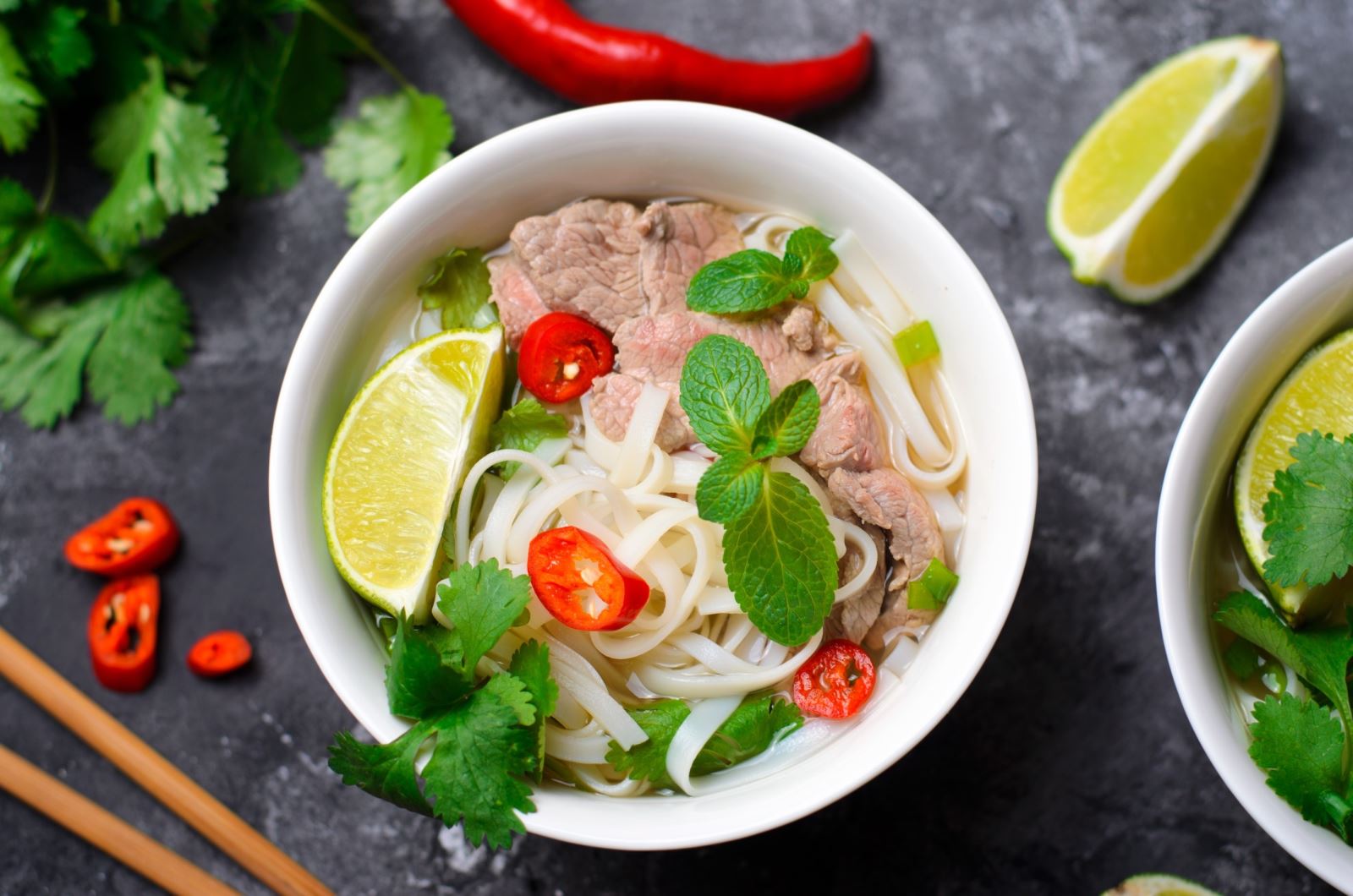 Banh mi
This famous Vietnamese sandwich is
everywhere
in Vietnam, and it's equally popular in Hoi An and Saigon. But it
technically
originated with French settlers in Hanoi. This sandwich is world-famous for a reason! Crusty baguettes encase a whole host of savory fillings and spreads, crunchy fresh veggies, and a healthy hit of chili to keep everything spicy. There are a hundred ways to have this sandwich, but popular with pate, barbecued pork, fresh cilantro, carrot and daikon, and a healthy dose of chili.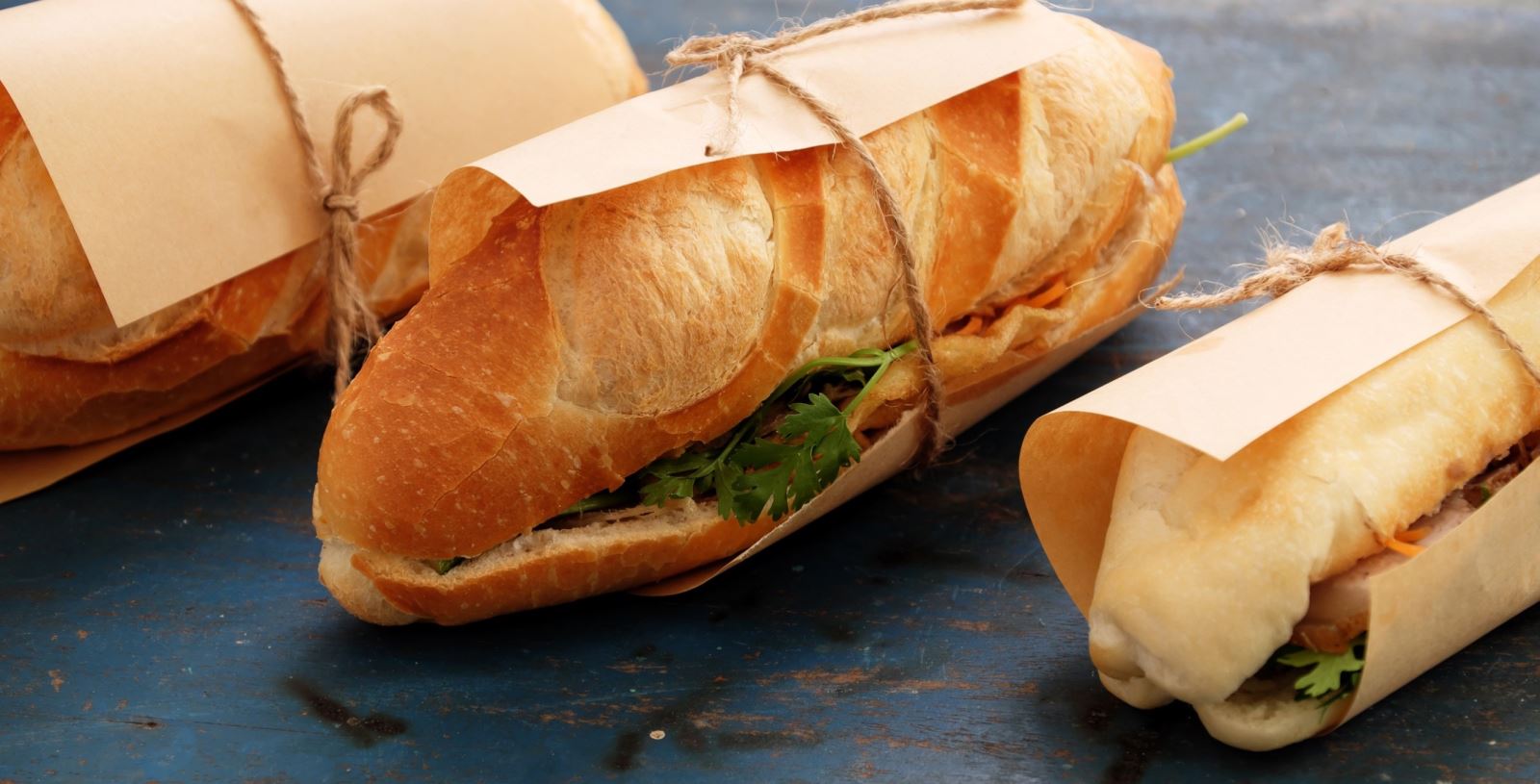 Bia Hoi
Bia hoi is a unique Northern Vietnamese beer that is allegedly brewed in the morning and is only good to the end of the day. While that may or may not be true, you can't beat the price of this yeasty, foamy beverage — usually $0.25USD and under! Don't skip the chance to sip this at the tiny plastic tables and chairs that surround Beer Corner in Ta Hien street, Old Quarter, Hanoi.
Central Vietnam - Hoi An
Banh Xeo
For those who haven't visited Vietnam, this may be an unfamiliar dish. But once you've tried it,
banh xeo
will rocket to the top of your Favorite Vietnamese Meals list. It's a distinctly Vietnamese take on a savory crepe: a crispy-crunchy rice flour and turmeric pancake wraps up minced pork and shrimp. The magical combo is topped with herbs and bean sprouts, and dipped into nuoc cham. Despite having pretty basic ingredients, it's a meal that bewitches the most accomplished foodies in the world. Do not miss this one!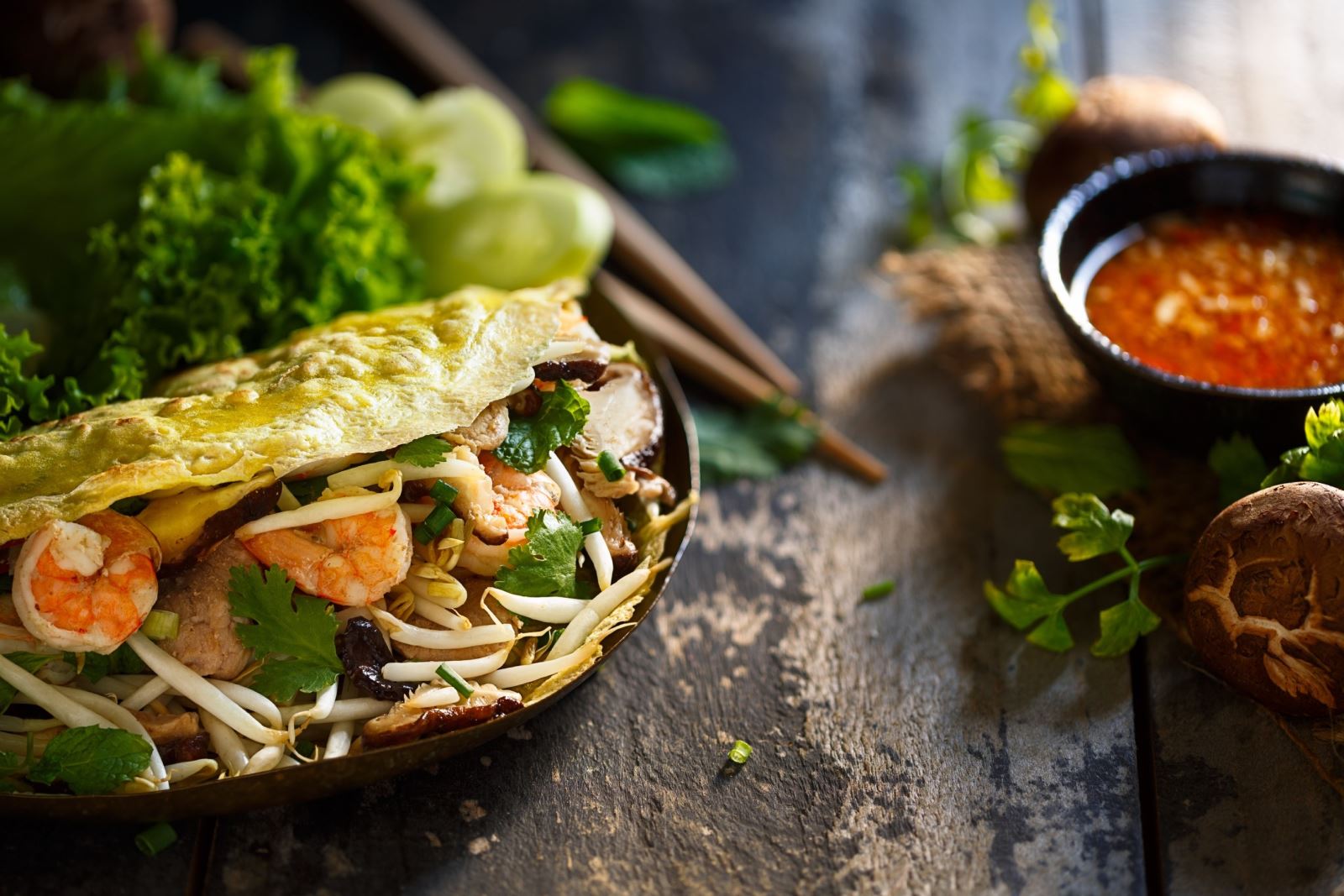 Cao Lau
I love food with a good story, and
cao lau
delivers. Only water from a secret well on the outskirts of Hoi An is used to make the buckwheat noodles that are the base of this dish. Only a select few know the location of this well, and they are the noodle masters. Fortunately, this beef-and-noodle dish is readily available on street carts and menus all over Hoi An city, so the noodle masters aren't stingy. It's the warm blanket of Vietnamese street food — one small bowl will warm and fill you up in no time.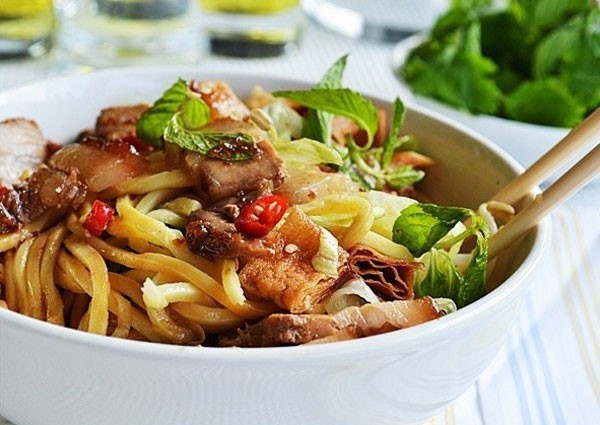 White rose
If you like your food to be as pretty as it is tasty, don't miss White Rose. It's a shrimp dumpling, but it's made with such artistry and delicacy that calling it a dumpling seems sacrilegious. Nicknamed for their pretty, pale floral shape, the thin rice wrapper holds a perfect little mouthful of seasoned shrimp. It is quite possibly one of the most photogenic appetizers you'll eat, with the added benefit of excellent flavor.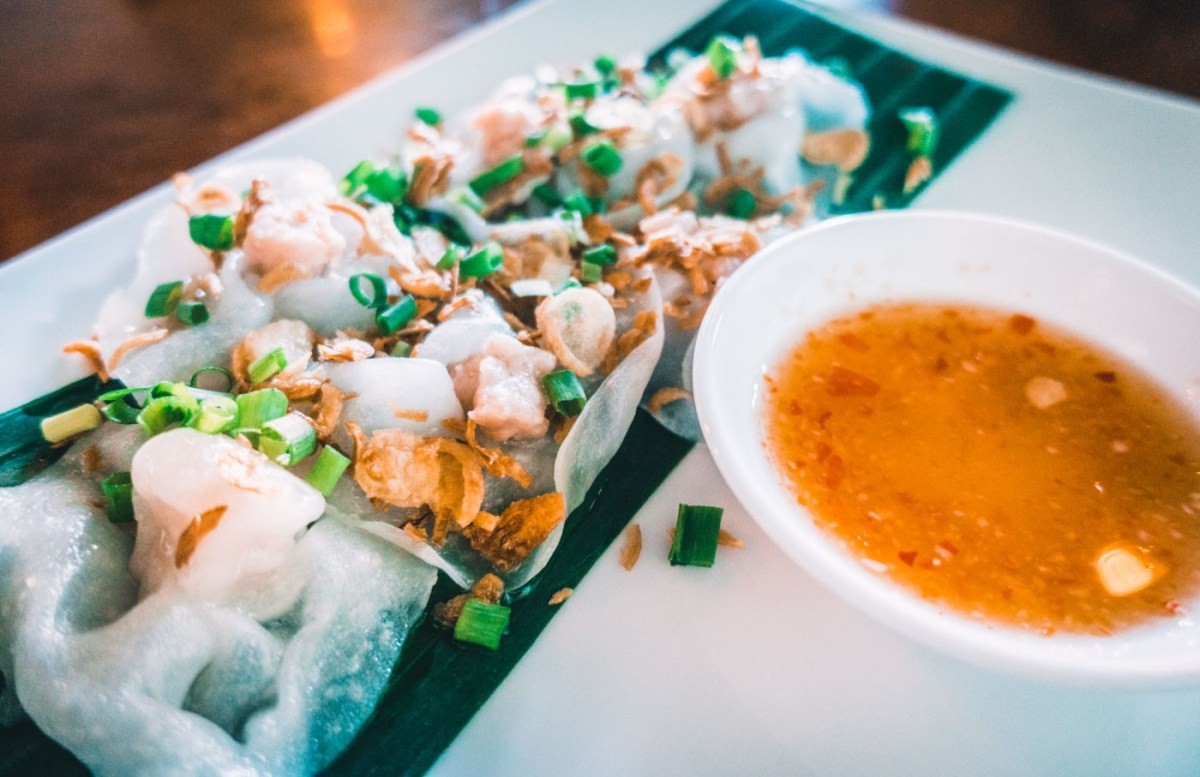 Southern Vietnam - Saigon, a.k.a. Ho Chi Minh City
Goi Cuon
These translucent fresh spring rolls are available all over the country, so don't hold back if they're on the menu anywhere. But in the South, there is a version that is so delicious, it might ruin you for fresh spring rolls forever. Filled with thin strips of barbecued pork, star fruit and green banana, it's a sweet-savory mouth explosion that will send you reeling. Dipped into some hearty peanut sauce, it reaches a new stratosphere of deliciousness.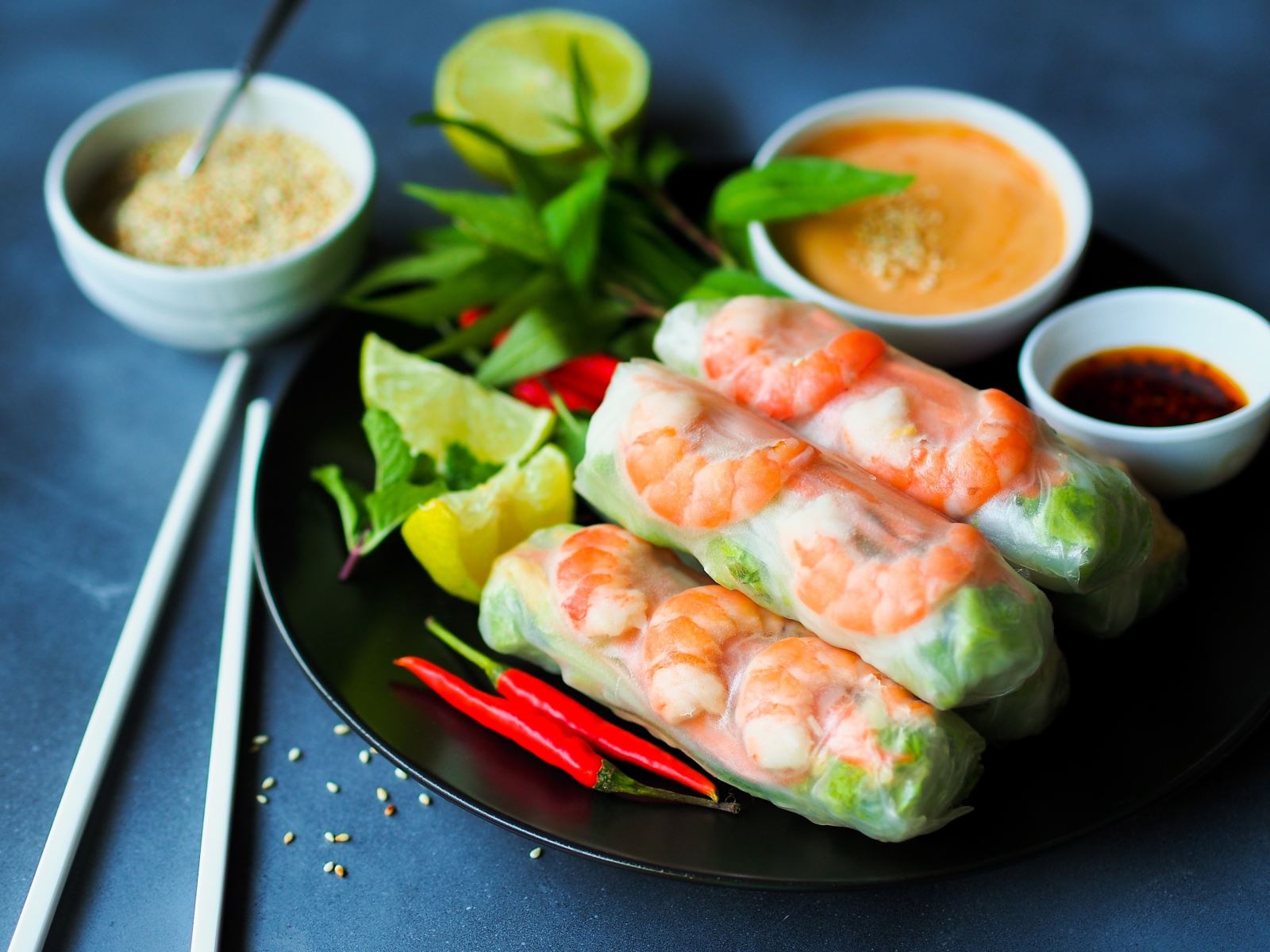 Com Tam
Rice is to Southern Vietnam as noodles are to Northern Vietnam, and this "broken rice" dish is a street food staple. It's made with rice grains that have broken during harvest, which creates a softer, slightly stickier texture. You can find
com tam
topped with any variety of protein and veggie combinations, but the barbecued pork and fried egg variation is the best. Bonus points if you can find one with pork cracklings!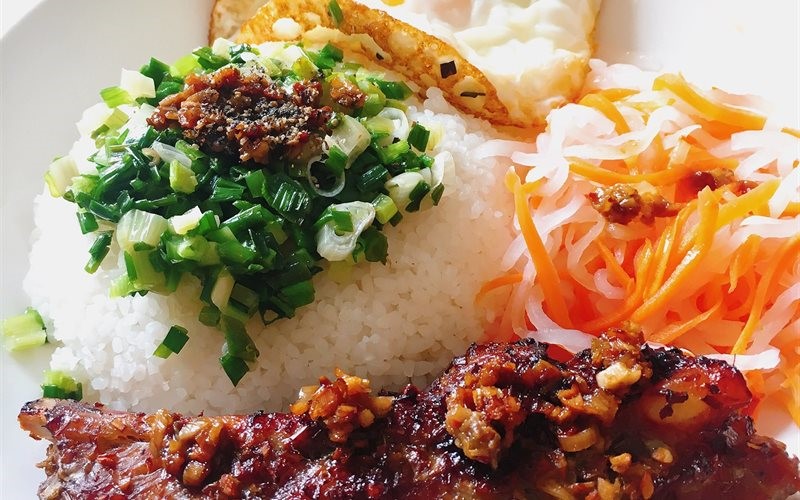 Canh Chua
If pho is Northern Vietnam, canh is Southern Vietnam. The word canh encapsulates a whole host of tamarind-brothed sour soups famous in the south. Canh chua is a variation famous in the Mekong Delta region of South Vietnam. It features whitefish common to the Mekong River, pineapples, tomatoes, garlic, shallots, and a handful of those ever-present fresh herbs. The kicker is the tamarind essence that is added to the broth to give it that famous tangy kick.